The flowers are blossoming and Arrow Video is giving us a bouquet of Blu-rays that will let you stay pretty on the sofa. The five titles will you take to a haunted rental unit, a candy covered Japan, an Italian flavored Western, a germ infected America and a bizarre Wisconsin. A Ghost Waits has a guy fixing up a house where the last renters just abandoned. Why? Because it's haunted, but the handy man doesn't seem too scared. But should he be? Giants and Toys is about rival candy makers going at each other with the new media of television. The film gives a great glimpse of Mad Men in 1958's Tokyo. Spaghetti Western fans will rejoice when Django arrives on 4K UHD. See the muddy glory of Franco Nero as he pulls a coffin into the middle of a troubled town. This is the film that established Sergio Corbucci as one of the kings of the genre. And now you can see it like you're in the movie theater. Terry Gilliam's 12 Monkeys arrives as limited edition Steelbook Blu-ray. The film has Bruce Willis time travelling into the past to save the future. Finally regional director Bill Rebane gets a career spanning boxset with Weird Wisconsin: The Bill Rebane Collection. The boxset dips into the feature films of a guy who made low budget films around. This is great if you've enjoyed Arrow's recent He Came from the Swamp: The William Grefé Collection.
Here's the press release from Arrow Video with all the details about the upcoming Blu-rays and the Django 4K UHD:
Spaghetti Westerns, Wisconsin Weirdness, and Japanese Satire Headline Arrow's May LineupOn May 4, Arrow will release Adam Stovall's A Ghost Waits. This low-budget DIY effort tells the story of a handyman, a haunted house, and the ghost he falls in love with. Beautifully shot in gorgeous black-and-white, A Ghost Waits made waves on the festival circuit, earning rave reviews. Famed critic Kim Newman declared A Ghost Waits to be "one of the strongest first features of recent years," and placed it amongst the "classic supernatural romances." A Ghost Waits comes loaded with special features, including three audio commentary tracks.Japanese comedy Giants and Toys heads to Blu-ray on May 11. From famed Daiei studios and director Yasuzô Masumura, Giants and Toys is a sharp satire about a commercial competition between three caramel companies. Released in 1958, Giants and Toys is a commentary on the media's creation of insta-celebrities, proving it to be decades ahead of its time. Relatively unknown to Western audiences, Giants and Toys received praise from The AV Club for its "restless camerawork and eye-catching pop artistry."Arrow will round the month out with a bang on May 25 with three releases. The Spaghetti Western classic, Django, makes its 4K UHD Blu-ray debut, and it comes with a full coffin of extras. Sergio Corbucci's landmark film made an icon of Franco Nero as the Union uniformed drifter dragging a coffin around the desert. More than fifty years later it continues to make the rounds as an important and beloved film. In addition to making its 4K debut, Django comes loaded with extras, including the Nero-starring, Texas, Adios.Terry Gilliam's sci-fi thriller, 12 Monkeys, receives a special Steelbook release on May 25. Set in a future world that is ravaged by disease and death, Bruce Willis stars as a convict sent back in time to find the original virus and help develop a cure. The film was universally praised – currently boasting a score of 89% Rotten Tomatoes – and Brad Pitt earned an Oscar nod for his turn as Jeffrey Goines, a mental patient with environmentalist and anti-corporatist views. The limited-edition Steelbook features newly commissioned artwork by Matt Griffin.Last, but certainly not least, is the May 25 release of Weird Wisconsin: The Bill Rebane Collection. This 4-disc set brings together 6 films – Monster A-Go-Go, Invasion from Inner Earth, The Alpha Incident, The Demons of Ludlow, The Game, Twister's Revenge – from low-budget horror maestro, Bill Rebane. The director honed his filmmaking chops at his "famed" Shooting Ranch in Gleason, Wisconsin. The location served as both a cattle ranch and home for his family, as well as Rebane's studio, producing hundreds of commercials and feature films over the years. This new box set features brand new restorations for all six films as well as the inclusion of the documentary Who Is Bill Rebane?, making it a must-own for low-budget genre fans.
A Ghost Waits
Not Everyone Hates Ghosts…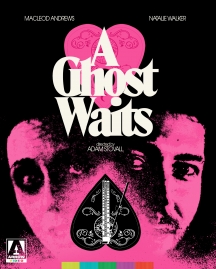 An ingeniously unique and unpredictable combo of horror, humour and heart, A Ghost Waits is a DIY labour of love years in the making from first-time writer/director Adam Stovall and producer/star MacLeod Andrews. Tasked with renovating a neglected rental home, handyman Jack (MacLeod Andrews, They Look Like People, Doctor Sleep) quickly finds out why the tenants keep leaving in droves – this house is haunted. The ghost in question is Muriel (Natalie Walker), herself employed from beyond the veil to keep the home vacant. Against the odds, Jack and Muriel find they have a lot in common… pulse notwithstanding. Having found a kindred spirit in an otherwise lonely existence, they must fight for their newfound affection as pressure mounts for them each to fulfil their "cross-purposes". From its opening spectral assault to its achingly poignant conclusion – as well as a witty depiction of afterlife bureaucracy in the vein of Beetlejuice and A Matter of Life and Death – A Ghost Waits has shocked and surprised audiences around the world, and now makes its home video debut stacked with insightful bonus features that take you inside the process of creating this phantasmagorical monochrome marvel

Bonus Materials
High Definition (1080p) Blu-ray presentation
Original 5.1 DTS-HD MA audio
Optional English subtitles for the deaf and hard-of-hearing
Audio commentary by writer/director Adam Stovall
Audio commentary by Adam Stovall and MacLeod Andrews
Audio commentary by the cast and crew
Humanity and the Afterlife in 'A Ghost Waits', a new video essay by Isabel Custodio exploring the film's themes and cinematic forebears
Eight interviews with cast and crew moderated by critic and programmer tt stern-enzi
Interview and post-film Q&A with Adam Stovall moderated by Alan Jones at Frightfest Glasgow 2020
Outtakes
Easter eggs
Theatrical trailer
Image gallery
Reversible sleeve featuring original and newly commissioned artwork by Sister Hyde
Giants And Toys
Candyland for cutthroats!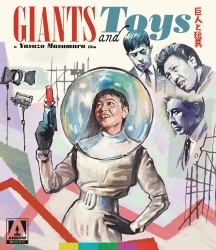 Giants and Toys is a sharp and snappy corporate satire that revolves around the ruthless machinations of a group of admen working in the confectionary industry. Its absurdist and acidly cynical take on the excesses of the media and advertising worlds presents a garish vision of a bold new postwar Japan where traditional company values come head-to-head with American-style consumer capitalism. As a new recruit to the marketing department of World Caramel, fresh-faced graduate Nishi (Hiroshi Kawaguchi) is eager to impress his ambitious and hard-nosed boss Goda (Black Test Car's Hideo Takamatsu), even if it strains his relationships with his college friend Yokoyama (Koichi Fujiyama) and new love interest Masami (Michiko Ono), who work at the rival companies of Giant and Apollo. With World's lead over its competitors slipping badly, the two spot a chance to get back in the race in the shape of the pretty but unsophisticated 18-year-old, Kyoko (Hitomi Nozoe). The two get to work polishing this rough diamond as their new campaign girl, but as the three rival confectionary companies pitch themselves into an all-out advertising war that spills out onto the streets of Tokyo as it escalates to ludicrous extremes, Kyoko's newfound fame starts going to her head. With the pressure mounting within the hothouse environment of World's boardroom, it soon becomes clear to Nishi that the Goda has sold out more than just his family in the name of corporate advancement. Making its worldwide Blu-ray debut, this lurid and colorful adaptation of the award-winning 1957 novel by Ken Kaiko is considered a landmark in Japanese film history and a key work by Yasuzô Masumura (Blind Beast, Red Angel), one of the country's most acclaimed directors of his generation.
Bonus Materials
High Definition Blu-ray (1080p) presentation
Original uncompressed Japanese mono audio
Optional English subtitles
Brand new audio commentary by Japanese cinema scholar Irene González-López
Newly filmed introduction by Japanese cinema expert Tony Rayns
In the Realm of the Publicists, a brand new visual essay by Asian cinema scholar Earl Jackson
Original Trailer
Reversible sleeve featuring original and newly commissioned artwork by Tony Stella
FIRST PRESSING ONLY: Illustrated collectors' booklet featuring new writing by Michael Raine
Django UHD + Texas, Adios Blu-ray
In this definitive spaghetti western, Franco Nero (Keoma, The Fifth Cord) gives a career-defining performance as Django, a mysterious loner who arrives at a mud-drenched ghost town on the Mexico-US border, ominously dragging a coffin behind him. After saving imperilled prostitute Maria (Loredana Nusciak), Django becomes embroiled in a brutal feud between a racist gang and a band of Mexican revolutionaries… With Django, director Sergio Corbucci (The Great Silence) upped the ante for sadism and sensationalism in westerns, depicting machine-gun massacres, mud-fighting prostitutes and savage mutilations. A huge hit with international audiences, Django's brand of bleak nihilism would be repeatedly emulated in a raft of unofficial sequels. The film is presented here in its 4K UHD Blu-ray debut, with a wealth of extras. Also included is the bonus feature Texas, Adios on Blu-ray, which also stars Franco Nero, and was released as a sequel to Django in some countries.
Bonus Materials
2-DISC 4K UHD BLU-RAY LIMITED EDITION CONTENTS
4K (2160p) UHD Blu-ray presentation of Django, in Dolby Vision (HDR10 compatible)
High Definition Blu-ray (1080p) presentation of Texas, Adios
Uncompressed Mono 1.0 PCM audio
Original English and Italians soundtracks
English subtitles for the Italian soundtracks
Optional English subtitles for the deaf and hard of hearing for the English soundtracks
Six double-sided collector's postcards
Double-sided fold-out poster
60-page perfect-bound book featuring writing by Howard Hughes and Roberto Curti, and original reviews
Reversible sleeve featuring original and newly commissioned artwork by Sean Phillips
DISC 1 – DJANGO [4K UHD BLU-RAY]
Audio commentary by film critic, historian and theorist Stephen Prince
Django Never Dies, an interview with star Franco Nero
Cannibal of the Wild West, an interview with assistant director Ruggero Deodato
Sergio, My Husband, an interview with Sergio Corbucci's wife Nori Corbucci
That's My Life: Part 1, an archival interview with co-writer Franco Rossetti
A Rock 'n' Roll Scriptwriter, an archival interview with co-writer Piero Vivarelli
A Punch in the Face, an archival interview with stuntman and actor Gilberto Galimberti
Discovering Django, an appreciation by spaghetti westerns scholar Austin Fisher
An Introduction to Django by Alex Cox, an archival featurette with the acclaimed director
Gallery of original promotional images from the Mike Siegel archive
Original trailers
DISC 2 – TEXAS ADIOS [BLU-RAY]
Audio commentary by spaghetti western experts C. Courtney Joyner and Henry C. Parke
The Sheriff is in Town, an interview with star Franco Nero
Jump into the West, an interview with co-star Alberto Dell'Acqua
That's My Life: Part 2, an archival interview with co-writer Franco Rossetti
Hello Texas!, an appreciation by spaghetti western scholar Austin Fisher
Gallery of original promotional images from the Mike Siegel archive
Original trailers
12 Monkeys Steelbook
The Future Is History
THE FUTURE IS HISTORY Following the commercial and critical success of The Fisher King, Terry Gilliam's next feature would turn to science fiction and a screenplay by Janet and David Peoples (Blade Runner, Unforgiven) inspired by Chris Marker's classic short film La Jetée. In 1996, a deadly virus is unleashed by a group calling themselves the Army of the Twelve Monkeys, destroying much of the world's population and forcing survivors underground. In 2035, prisoner James Cole (Bruce Willis, Die Hard) is chosen to go back in time and help scientists in their search for a cure. Featuring an Oscar-nominated turn by Brad Pitt (Fight Club) as mental patient Jeffrey Goines, Twelve Monkeys would become Gilliam's most successful film and is now widely regarded as a sci-fi classic.
Bonus Materials
High Definition Blu-ray (1080p) presentation
Optional DTS 5.1 Master Audio and 2.0 stereo soundtracks
Optional English subtitles for the deaf and hard of hearing
Audio commentary by Terry Gilliam and producer Charles Roven
The Hamster Factor and Other Tales of Twelve Monkeys, feature-length making-of documentary by Keith Fulton and Louis Pepe (Lost in La Mancha)
The Film Exchange with Terry Gilliam, a 1996 interview with Gilliam and film critic Jonathan Romney, recorded at the London Film Festival
Appreciation by Ian Christie, author of Gilliam on Gilliam
The Twelve Monkeys Archives
Theatrical trailer
Limited edition Steelbook featuring newly commissioned artwork by Matt Griffin
Limited edition booklet featuring writing on the film by Rabin, and an excerpt of Gilliam on Gilliam by Ian Christie
Weird Wisconsin: The Bill Rebane Collection
The essential Bill Rebane movie collection, one of America's most tenacious outsider auteurs!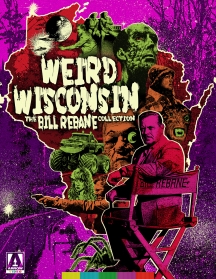 Bringing together six films, all new to Blu-ray and in brand new restorations, Weird Wisconsin: The Bill Rebane Collection packs in a mutant astronaut bothering blissful sunbathers (Monster A Go-Go), a contagion apocalypse as seen from the vantage point of a remote mountain cabin (Invasion from Inner Earth), deadly alien spores from the rocks of Mars (The Alpha Incident), rural gothic and outright horror (The Demons of Ludlow), an eccentric 'body count' movie (The Game) and a comedy smash-'em up that pits three hillbilly stooges against a talking Monster Truck with artificial intelligence (Twister's Revenge).
Bonus Materials
LIMITED EDITION CONTENTS
High Definition Blu-ray (1080p) presentations on 4 Blu-ray discs
Original uncompressed mono audio for all films
Optional English subtitles for the deaf and hard of hearing
Straight Shooter, a multi-part interview with director Bill Rebane about the making and release of each film in the set
Who is Bill Rebane? A definitive brand new feature length documentary by historian and critic David Cairns [LIMITED EDITION EXCLUSIVE]
Fully illustrated 60-page collector's booklet featuring extensive new writing by historian and critic Stephen Thrower [LIMITED EDITION EXCLUSIVE]
Reversible poster featuring newly commissioned artwork by The Twins of Evil [LIMITED EDITION EXCLUSIVE]
Reversible sleeves featuring newly commissioned artwork for each of the films by The Twins of Evil
DISC ONE – MONSTER A GO-GO + INVASION FROM INNER EARTH
Straight Shooter Part 1 and Part 2, two newly filmed interviews about the making of Monster A Go-Go and Invasion from Inner Earth with director Bill Rebane
Brand new interview with historian and critic Kim Newman
Twist Craze, and Dance Craze, two early short films by Bill Rebane
Kidnap Extortion (1973), a newly restored industrial short directed by Bill Rebane
Still Gallery
DISC TWO – THE ALPHA INCIDENT + THE DEMONS OF LUDLOW
Straight Shooter Part 3 and Part 4, two newly filmed interviews about the making of The Alpha Incident and The Demons of Ludlow with director Bill Rebane
Rebane's Key Largo, a brand new visual essay by historian and critic Richard Harland Smith
The Alpha Incident original trailer
The Demons of Ludlow original trailer
Still Gallery
DISC THREE – THE GAME + TWISTER'S REVENGE
Two presentations of The Game (aka The Cold) in 1.85 and 1.33 aspect ratio
Straight Shooter Part 5 and Part 6, two newly filmed interviews about the making of The Game and Twister's Revenge with director Bill Rebane
Discovering Bill Rebane, brand new presentation by historian & critic Stephen R. Bissette
The Game original trailer
Twister's Revenge original trailer
Still Gallery
DISC FOUR – WHO IS BILL REBANE? (2021) + BONUS
Who is Bill Rebane? Exclusive new feature length documentary by historian and critic David Cairns
King of the Wild Frontier a conversation with historian and critic Stephen R. Bissette
Invasion from Inner Earth outtakes from the shoot
The Alpha Incident outtakes from the shoot
The Demons of Ludlow outtakes from the shoot
The Giant Spider Invasion original trailer
Gallery of Behind the Scenes stills
Still Galleries for the rest of Rebane's filmography
Extras subject to change
Subscribe for more interesting stories via Email