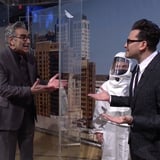 Dan Levy's Monologue! ⭐ pic.twitter.com/oUFIljXTQ4

– Saturday Night Live – SNL (@nbcsnl) February 7, 2021
On Feb. 6, Dan Levy made his hosting debut on Saturday Night Live with a charming monologue. "Somewhere my 13-year-old self has fainted in like a really needy, melodramatic way," he stated with a grin. When discussing the highs and lows of his 2020, he couldn't help but include Schitt's Creek, which earned 9 Emmys and Dan the personal honor of being recognized on the street. Granted, now people keep shouting "EW!" at him; something he said "will now haunt me for the rest of my life." He then took us on a tour of the SNL set, showing all the "safety measures" the show had put in place, including anti-viral mist and a safety officer named Doreen.
At the end of the tour, Dan had the sweetest surprise in the form of dad Eugene Levy in a glass box. "I didn't know about the box at the time, no, I found out when I landed," said Eugene with a resigned sigh. "Well I'd offer to help but we're live on TV," Dan added with an awkward laugh. You can catch the reunion in the video above.
Subscribe for more interesting stories via Email