Read Time:
4 Minute, 1 Second
Occupation: Bug Wrangler. Well, on this occasion anyway. I've worked with everything from tigers to camels and crocodiles, but these days I specialise in the smaller critters that most other people don't like: bugs, reptiles and rodents. I joke that someone has to do it, but the truth is these animals have always been my favourite; I have a passion for sharing them with people and challenging the misconceptions associated with them. The irony being that this niche mostly involves enhancing the fear factor on a film production.
Such was the case with Saint Maud, on which I proudly represented Stuntdogs and Animals. If you've seen the film you'll have no doubt have noticed the cockroach, Nancy, who's even credited for her stellar performance – though to really appreciate why she's special you'd have had to be there behind the scenes where everyone fell in love with her.
Most folk don't realise that smaller animals such as mice, rats and even bugs can be trained to perform specific actions and behaviours on set like dogs can, but with the correct prep and handling techniques it's amazing what you can achieve. Prep reduces fear and stress on the day and prolongs the animal's lifespan, but it also means the money shots are bagged much faster and more successfully.
Species selection is everything, so liaising with the production team in advance is key. Different species have varying looks and characteristics (jumpy or calm, for example) and there's differences between the sexes also. With bugs, I prefer females as they tend to be less nervous. I love Peppered cockroaches as they are winged and so look more authentic than their more commonly used Madagascan hissing cousins, but are still large and slower-moving than most other winged species so read better on-camera and are more manageable.
For any assignment I will prep (or audition, if you like) several individuals to select the one with the best aptitude for the task and always make sure there's at least one back up, in case it gets tired on the day. They learn in baby steps, with timeouts in a safebox or a sip of nectar as rewards.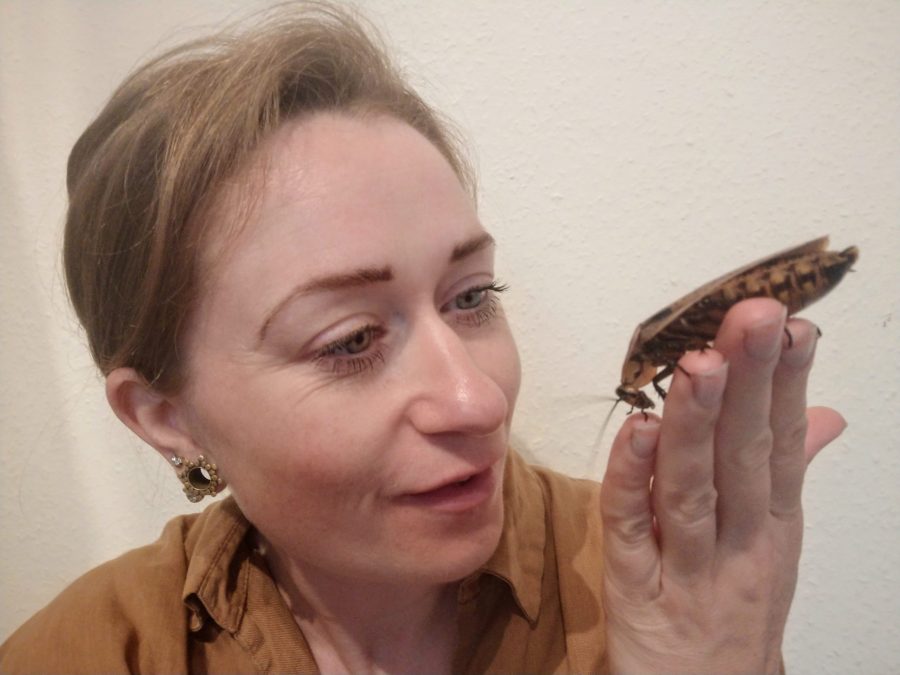 The sequences in Saint Maud were done on green screen because Nancy was too heavy to do crawl across the ceiling for real unaided. With green-screen fabric on the floor and lighting directly above, she had to walk in an exact straight line several times. To achieve this, we put a marker at each end and I coached her to show the route, repeating a couple of times so it was familiar and so she could lay a scent trail down to follow.
Sure enough, when prompted she then walked the route unaided to my assistant at the other side who passed her back to me to repeat. We used a similar method for getting her to span the room, though we had the added challenge of it being a relatively large open area (their instincts usually compel them to bolt for the edge of a room rather than cross an open space) and the rug presented quite a step for her to crawl up and over, where her natural instinct was to instead skirt round the edge.
For the sink shots we constructed a hidden ramp in the sink to help her climb out and again showed her the route so she could confidently walk it a few times for that lovely reveal, again getting the perfect positioning for pulling focus at the right moment. The crew had wisely scheduled three hours to get all the shots needed, but we achieved everything and more within an hour.
I was first introduced to the world of training animals for film back in 2002 while doing work experience at the UK's only purpose-built zoo that provides wild animals for film. I started a six-week programme but never left, returning after completing my course and later doing a degree in Animal Behaviour.
In the years that followed I dipped in and out of the film world in between working at a number of public zoos where I trained and presented animals for educational displays, and today I freelance what I do, living with a collection of over 70 heads of animals (if you count colonies as "one") representing some 40 species.
Most of my work comes through some of the industries most highly regarded animal agencies with whom I've connected over the years, and I also continue to provide animals independently for photographers, kids parties, corporate events and also schools and colleges, lecturing up to university level and beyond.
The post How we trained the cockroach in Saint Maud appeared first on Little White Lies.