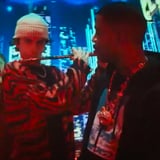 🔥 Weird Little Flute 🔥 pic.twitter.com/5DFMIYE51c

– Saturday Night Live – SNL (@nbcsnl) April 11, 2021
Saturday Night Live paid tribute to weird little flutes in a hilarious sketch, and it's kinda a bop? During the show, Pete Davidson and Chris Redd were joined by musical guest Kid Cudi for a sketch that still has me scratching my head and laughing. As the trio talked about bringing their flutes with them everywhere they went, including at the club and the airport, it became increasingly clear that they might have an unhealthy obsession with the musical instrument. As if that skit couldn't get any weirder, actor Timothée Chalamet made a quick cameo to play his own flute.
It may seem completely random to have Chalamet join the skit, but the actor and Cudi actually go way back. Chalamet has been huge fan of the rapper since he was a teenager, and he previously told James Corden that Cudi inspired him to be an artist. In addition to popping up at one of his shows to recite words from Cudi's "In My Dreams (Cudder Anthem)," Chalamet was also in attendance at the rapper's birthday party in 2019, which included Davidson, Kanye West, and Kim Kardashian. See the hilarious skit above.
Subscribe for more interesting stories via Email