When David E. Talbert, the writer and director of Jingle Jangle: A Christmas Journey, went to show his son the movies which he had loved as a child —Chitty Chitty Bang Bang, Charlie and the Chocolate Factory and Doctor Dolittle (the original, not the Eddie Murphy remake) — he saw that something was missing: Black people. So he set out to make a film that encapsulated the wonder and joy of these stories with a cast that reflected him and his family; to show that people of colour can exist in magical worlds too.
Jingle Jangle is a musical spectacle, telling the story of Jeronicus Jangle (portrayed at different ages by Justin Cornwell and Forest Whitaker) who was once the most renowned toy inventor in all of Cobbleton — the fictional Victorian town where this tale unfolds. When his disgruntled apprentice Gustafson (Miles Barrow and Keegan-Michael Key) — spurred on by the toymaker's latest creation Don Juan Diego (Ricky Martin)— steals his book of inventions, Jangle is left uninspired and unable to recapture the magic of innovation which he once possessed.
Decades later Jangle is bitter and alone, having been forced to turn his once thriving toy business into a pawnshop, and not a particularly profitable one at that. If he doesn't come up with the money to pay his outstanding bills or deliver on the long overdue promise of a new, revolutionary invention by Christmas, he will be thrown out on the streets. Enter Journey Jangle (an impressive performance from newcomer Madalen Mills): his estranged granddaughter, who is determined to connect with her mysterious kin in spite of his vocal disinterest. Journey represents everything that Jangle has lost — joy, hope, wonder and a belief in the power of possibility.
Though the diverse inhabitants of Cobbleton immediately set the film apart from many fantastical festive films of the past, what follows is a relatively traditional Christmas narrative. Jingle Jangle is a story about love, family and redemption, with moralistic lessons on the importance of accepting each other's differences.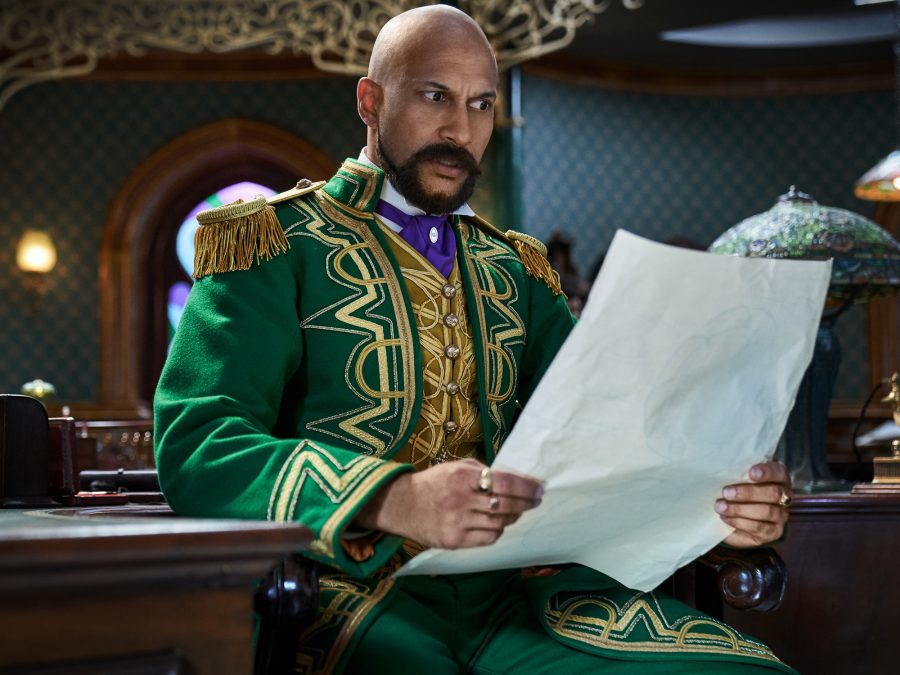 But this is not to say that it is entirely conventional. Black cultural influences on the film are seen throughout — a welcome respite from the historical whiteness of the genre. Jeronicus and Journey have a snowball fight to the sounds of a festive highlife remix (Bisa Kdei's Asew). Townspeople perform a step dance break (inspired by the traditional African American dance form) during the rousing song "Make It Work". There are echoes of purple, green and gold Mardi Gras celebrations in Gustafson's brass-infused musical number ''Magic Man G" – a wonderfully over the top performance from Key as the moustachioed, bejewelled cane-toting villain.
The film is an undeniably impressive affair, with dazzling costumes and music from Grammy winning songwriters including John Legend, and it is worth watching for Sharon Martin's innovative take on afro-Victorian hair alone. But at points this is still not quite enough to maintain attention. The pacing of the story feels off — it is slow to get going, Journey isn't introduced until 30 minutes in, and the film lags in parts. It also takes on an unnecessary story within a story narrative structure for the purpose of a final reveal that ultimately doesn't pay off and is a bit nonsensical. There are just too many characters and moving parts.
But for all its flaws, Jingle Jangle is a charming and long overdue film. The importance of seeing Black joy on screen in what has been a spectacularly difficult year should not be underestimated.
---
ANTICIPATION.

I'm something of a Netflix Christmas film aficionado.
3
ENJOYMENT.

Oscar winner Forest Whitaker two-stepping to highlife in the snow!
3
IN RETROSPECT.


It's fun, but I won't be adding it to my annual festive film watchlist.
3
---
Directed by



David E. Talbert

Starring



Forest Whitaker,

Madalen Mills,

Keegan-Michael Key,

Hugh Bonneville

The post Jingle Jangle: A Christmas Journey appeared first on Little White Lies.
Subscribe for more interesting stories via Email